VI Program in the Media
The VI Program faculty, students, and alumni are quite active in the SF State and greater communities! Look for our leadership in conversations about digital multimedia accessibility, innovative teaching practices, and research related to access technologies, cerebral visual impairments, psychosocial needs, and assessment.
Dr. Ting's Faculty Voices podcast about teaching online
Our VI program is a hybrid model with all classes live on Zoom and in-person Lab Weekends once per semester. Check out Dr. Ting's podcast to hear tips on teaching online and engaging students in lively group activities in the virtual classroom.
Dr. Ting's keynote at the 2018 AERBVI International Conference
Curious how our VI program embraces modern trends while respecting historical foundations of practice? In her keynote speech at the 2018 AERBVI International Conference, Dr. Ting (our VI Program Coordinator) encourages teachers to re-imagine themselves as accessibility facilitators who can empower students to achieve equity in their classrooms and community. Her philosophies on information accessibility, advocacy through technology and policy, and promotion of blind and low vision students as makers and designers translate directly to our program's philosophies in preparing progressive teachers and leaders.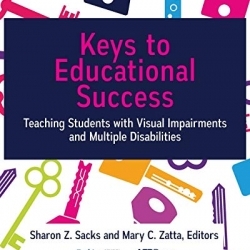 Keys to Educational Success (Sacks and Zatta, 2016)
Published by the American Printing House for the Blind (APH) and edited by one of our student teaching supervisors, Dr. Sharon Sacks's textbook is the go-to text for addressing the diverse needs of students who have visual impairments and multiple disabilities.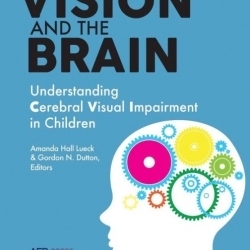 Vision and the Brain (Lueck and Dutton, 2015)
Emerita professor Dr. Amanda Lueck's textbook on cerebral visual impairment (CVI) is among the most comprehensive book on the topic. "Vision and the Brain is a unique and comprehensive sourcebook geared especially to professionals in the field of visual impairment, educators, and families who need to know more about the causes and types of CVI and the best practices for working with affected children." (Amazon, 2020)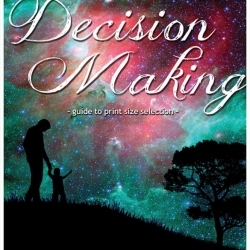 Decision Making Guide to Print Size Selection (Lueck, 2018)
Emerita professor Dr. Amanda Lueck's manual "provides an easy formula to determine the most appropriate print size for an individual who is visually impaired." (APH, 2020)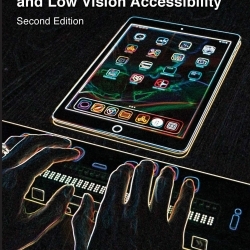 Access Technology for Blind and Low Vision Accessibility (Siu and Presley, 2020)
Dr. Ting Siu's textbook provides "an overview of currently available technologies and tools, and presents a new process for technology evaluation that ensures every student is supported to build the toolbox he or she needs to break down barriers to access." (APH, 2020)
SF State VI Program: TechTalks
In order to bridge the fast pace of technology development with professional development needs, the VI Program hosts a bi-monthly TechTalk series. Invited presenters demo cutting edge tools and strategies for using a variety of technology to support blind and low vision accessibility. All TechTalks are livestreamed publicly on our YouTube channel and posted with captions. Subscribe to our YouTube channel for notifications when new content is available! 
For PDF files, you'll need Adobe Acrobat 5.0 or above to view it. If you need Adobe Acrobat Reader it's available free from Adobe.