A Tribute to Sally by Phil Hatlen
Including His Congratulatory Speech, when Sally Received the Migel Award from the American Foundation for the Blind, November 4, 2003.
 
I received word on Saturday that Sally Mangold died. The full weight of this news is beginning to sink in, and I wanted to write a few words now. I met Sally (and her husband, Phil) in the Spring of 1955. The three of us were students at  San Francisco State, all wanting to be teachers of blind children. Sally and Phil were both blind themselves. For 50 years we have maintained a close friendship that only the three of us fully understood. I would do anything for them, and they for me. We loved one another in a very special way. We had not only grown old together, we had shared a passion for our profession that was deep and nurturing.
A year ago I had the privilege of introducing Sally at the Migel Award ceremonies in  San Francisco .Several times during this past year, Sally would call to give me news about the SAL, her very special project. Then, I was privileged (along with a lot of other people) to hear Sally keynote the APH conference last October.She and I had several conversations in  Louisville , times that I now treasure more than anyone can imagine. When I heard that Sally was gravely ill, I called and talked to her. In her usual manner, she was upbeat and certain that her inclusion in a trial at the  UCLA Medical Center would be the answer to her illness. And later I talked with Phil who was also upbeat about Sally's future.
And now she's gone. And I've lost another peer colleague. It's an entirely different feeling when a mentor dies-they represent an earlier generation, and one assumes he will outlive his mentors. Now it's time that I recognize that my generation of colleagues are dying, and that is a very sobering and sad thought. My friend Karen called to give me the news of Sally's death. When we finished our conversation, Karen said "I love you, and if I never have a chance to say it again, I'm glad I could do it now." I'm glad I told Sally that I love her the last time I talked with her.
For many years, there was an office at  San Francisco State University that housed Sally, Pete Wurzburger, and me. Tonight I called Pete, who already knew about Sally's death. Pete, who is 80 years old, has his aches and pains, but he sounds strong and vital. I said "Pete, I love you" before I hung up, because maybe I won't get another chance to tell him.
Below are my words about Sally when she received the Migel Award from the American Foundation for the Blind.
FOR MY FRIEND, SALLY MANGOLD
From Phil Hatlen
(To the tune of Daisy, Daisy)

Sally, Sally, give me your answer, do
I'm half crazy, is it Grade 1 or 2?
It won't be a simple answer
But I know what you say will be true
Braille will prevail
It will not fail
And it's all because of you.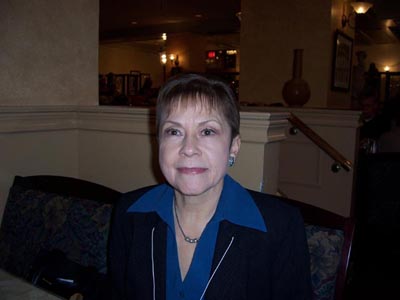 Sally Mangold, Professor Emerita, 1935-2005 
(a special thanks to Cay Holbrook for the photo.)
There are so many dimensions of Sally Mangold that I hardly know where to begin, what to stress, and what to leave out. I think, Sally, my friend, that I'll talk for a few minutes about three aspects of you.
I wonder if all of you know that Sally, her husband Phil, and I began in this profession at the same time. The three of us were among the first teachers of visually impaired children in local schools, we were a part of a tremendous evolution of services during the second half of the 20th century, and we have remained close, loyal, and loving friends for many years.
Why does Sally deserve the Migel Medal? Well, first of all, she was one of the most successful, inspired teachers I have ever known. Throughout her years as a teacher in the Castro Valley Schools, Sally developed a reputation that resulted in visitors from all over the world coming to the programs that she and Phil had developed in Castro Valley. I remember talking to Sally at some point about summer school. She told me that she was going to teach living skills that summer. I asked her what she intended to teach. She said that she would be asking the parents of each child what skill in independent living they would like their child to learn, and that was what she would teach. Imagine that? Asking parents what they wanted their child to learn-educators never did that! But Sally did, for she was always far ahead of others in her approaches to education.
Sally, the true master teacher of children, I salute you! 
Then there is Sally the Innovator. As a professor at SFSU, she was imaginative and creative in her approaches to providing future teachers with not only skills and knowledge, but with pride and passion. It was hard for any student in her university classes to resist the excitement Sally had for her profession, and to know that they owed it to Sally to share their skills with blind and visually impaired students. I'd venture to say that there is no one in the world who is better known for her knowledge and skill in teaching Braille than Sally. In the summer of 2002, I attended her session at a world-wide conference in Holland, and watched a roomful of mesmerized teachers from dozens of countries who knew they were in the presence of a giant.
That brings up something else about Sally the Innovator. I suggest to you that Sally is the most dynamic, inspirational, and knowledgeable speaker in our profession today. I have heard her give presentations several times in recent years, and I still find myself challenged, invigorated, and uplifted every time I hear her. Have any of you ever heard Sally give a dull and uninteresting speech? She is truly amazing!
A teacher, a professor, a motivator, and what else? There is not a teacher in the U.S., and maybe not one in the world, that doesn't know about Educational Teaching Aids, the company that Sally and Phil co-founded many years ago, that continues to grow and flourish. Look at the catalog of this company, and count the number of products that Sally and Phil themselves invented or developed. I especially enjoyed Phil's publication entitled "The Pleasure of Eating."
So, Sally, you are or have been a teacher, a professor, a motivator, and a business owner. But wait, there's one more Sally I want you to know, the Sally that I treasure the most — Sally the Friend.
As we grew up together in our profession, Sally, Phil, and I were never very far apart, either geographically or in our fondness for one another. Sally and Phil settled into a large, comfortable house in Castro Valley, the perfect house for quiet gatherings and noisy parties with friends. I spent many evenings with a few close friends at this home, eating, drinking, and enjoying good company. I also spent many wonderful times at noisy, crowded parties at the home of Sally and Phil.Both of them are musicians, and nothing pleased them more than to arrange a small pick-up band and spend an evening making music. The only thing they let me play was the gut-bucket, and Sally kept telling me not to play too loud!
SFSU students looked forward to end-of-year parties with the Mangolds, and they were never disappointed! I looked forward to just being with them, where love and friendship enriched my life. Sally, you are being honored tonight for your many significant accomplishments in your profession. You have brought the beautiful world of literacy to countless children, and your example as a teacher has brought joy and fulfillment to many, many blind and visually impaired persons. But I also honor you, my friend, for the joy and fulfillment you have added to my life. I treasure our friendship, and my life is so much richer for knowing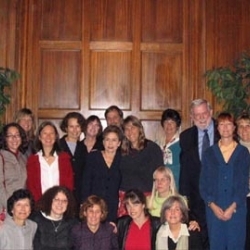 Sally with her students at the Migel Awards Ceremony, November 4, 2003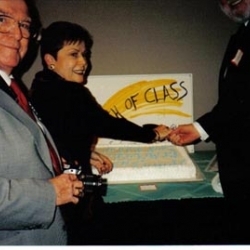 Sally, Pete Wurzberger, and Phil Hatlen cutting the cake at the 50th Anniversary of the Program in Visual Impairments, 1999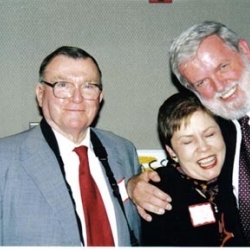 Sally, Pete, and Phil at the 50th Anniversary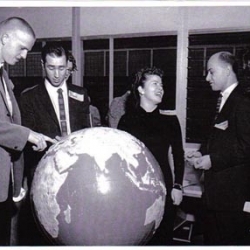 Sally Mangold, Phil Mangold, Phil Hatlen, and Fred Sinclair when they were in the first group of students in the Program in Visual Impairments at San Francisco State University, circa 1955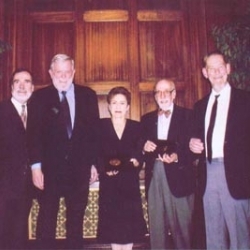 Sally with Carl Augusto, Phil Hatlen, Bill Silverman, M.D. (who also received a Migel Award), and Gil Johnson at the Migel Awards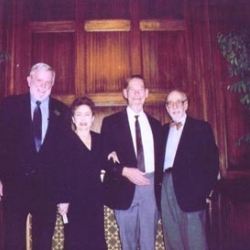 Sally with Phil Hatlen, Dr. Bill Silverman, M.D., and Gil Johnson